I 've had ideas of some sort of triple since I discovered my first ever tri attempt venue (which was Wimbleball 70.3 in 2013… I got timed out on the bike) started doing a triple weekend, so you did the sprint and Olympic on the Saturday and the 70.3 on the Sunday. Luke is clearly more ambitious then me!
So I'll set the scene, mid March 2020. The marathon looks unlikely a) due Covid and b) my calf had just gone pop (for the first time.) Sat in the car park at the gym talking to my poor long suffering coach and he suggests we need a plan B in case Covid spoils our summer race plans, Wales for Luke and The Monster for me. Cue Luke's BIG idea and the seed was planted.
Due to being injured and pools being shut there was a lot of turboing, strength and rehab over the next few months but all low intensity zone one stuff with various coaches challenges to help build for it, including cycling 150/60/160/70/170/60/180k the two weeks leading in to our practise 70.3 weekend and route test in June. Having something  so crazy to focus on massively helped keep me vaguely sane through lockdowns and the general Covid blues, whilst giving me something to train for when there were no races on the horizon.
The big fear for me was not being able to run. It was the first time ever I had a proper injury that was not getting better after 2 months of rest no matter how much rehab, osteo, acupuncture, sports therapy, specialists or drugs I threw at it. Ever since I discovered running properly 15 years ago its been my go to happy place and I struggled not having that.
We survived the trial run with a few amendments to the transition areas, the idea of doing 2.5 times that was somewhat intimidating but the date was set and the money started being raised for charity. The support was amazing from so many people offering to domestique, provide food, drink, photos and the usual Tri Surrey fabulousness it was simply incredible.
The weekend dawned and the ridiculous amount of food was packed, plus my secret weapon… the go faster rubber ducks for our bikes! The SHAC was a great location for the swim as the lap didn't look too big and sticking to the edges meant 10 laps which was nice and easy to count down. The first ride set out… fast! My zone one training was not Luke speed so I know I held everyone back a fair bit. The company was perfect and I don't think I spent more than a few minutes at the front of the gravy train before someone would jump ahead. My bike skills have never been super and my issue was drinking enough whilst not crashing into those around me! But we made the first 90k lap, a quick and by now very warm food and drink stop and back out for loop 2, I swear the very few very small hills were bigger that time. The short drive to the Beehive and we were out on the run. My calf was behaving… for about 200m… then I felt the other one go pop. It was going to be a fairly slow loop however halfway round it became apparent Luke was not well, a nutritional issue kept us to a walk jog. As we finished lap one he went to lay down while a pint of lemonade and lime never tasted so good to me! A quick discussion where he tried to make us leave him to walk alone was dismissed and we set off to finish day 1, with a short stop in Simons garden (and a quick lay down for Luke) by the time we got back we had all got cold but glad that was done!
Day 2 and Luke was back on form, a good swim and a more sedate cycle meant I was hoping the run would be ok if a little slow with tired legs and a sore calf. However it was not to be, it was my turn to be poorly and much of the second lap was spent decorating the pavement. By the time we got back to the Beehive I knew I wasn't in a good place. I managed some dinner but then spent till 3 am seeing it all over again and couldn't sleep. By 5am I was in despair knowing there was no way I could complete day 3 or potentially even start it, more from fear of putting other people at risk of crashing into them on the bike or relying on them to look after me which was far from fair.
I messaged Luke,  told him I didn't even know if I could be there to cheer I felt so rotten. But the idea of letting him and so many others down made me feel so much worse. I rocked up to the lake mildly hysterical and was met by one of the few people who could have made me see sense. We agreed I'd just swim as far as I felt I could then call it quits. Once we were ready to go Anna appeared and offered to let me draft her and if I'm honest I don't think I'd have made it without her (Thank you!) I'm so glad I did, another thank you to Matt for the awesome phots from that morning. Once at Buckland there was an army of people, Fleur had brought breakfast and the bikers set off. I went and slept in the car for an hour and by lunchtime felt ever so slightly human. I don't know what happened on the bike other than they went FAST! They were back before I knew it and Luke wanted to head back out ASAP looking fighting fit. While lap 2 happened I realised there was no shiny medal waiting at the end for him so quickly rectified that and made sure there would be a sort of finish line too. A sub 3 hour bike got us to the beehive faster than either of the previous 2 days with Luke looking super strong on the run with me pedalling alongside on the road. Again a record lap and he didn't want to stop so straight out for lap 2. I had to sprint to catch up with him to give him his topped up bottles! A little crowd of in awe tri surrey gathered while Luke, with Andy, Thalia and Simon (who all had to race to catch up with Luke being so ahead of schedule!) flew round the last lap while I did a slow 5k so I at least did a sort of tri that day.
Though I was gutted to not have completed the challenge it was a real privilege to watch a true athlete at work that day, and thanks to Andy, Carol, Thalia and Gary, a few weeks later I finished it off doing the bike and run, well, walk around box hill.
Jenny M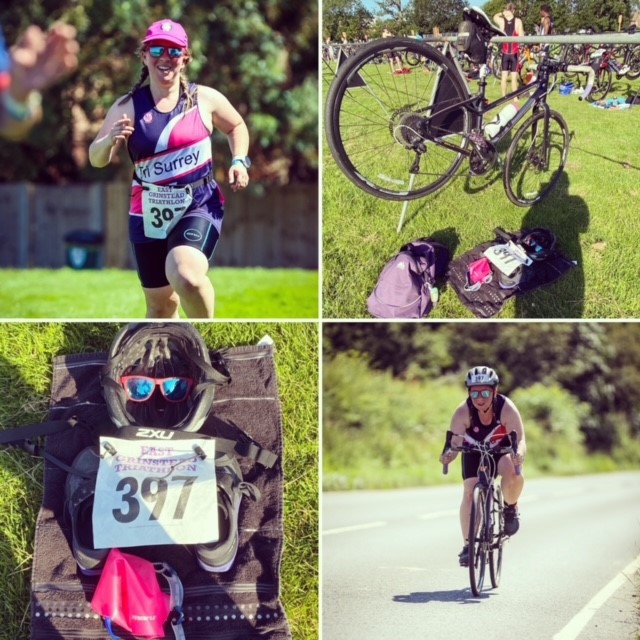 My first triathlon – the long wait!
I joined Tri Surrey back in October 2019. Initially I was keen to improve my running with some regular speed sessions. Monday track nights quickly became part of my weekly training and soon I was persuaded to try out a Sunday cycle. As with track training the Reigate hub welcomed me and cycled with me for my longest ride in years. Regular Sunday rides with both Sanderstead and Reigate hubs complemented my running and it wasn't long before I was considering the Wednesday swim sessions. However, a few weeks after booking my first Tri – East Grinstead, Covid levels rose and we went into lockdown. During the spring and summer of 2020 my training continued, remotely but still with the amazing support, camaraderie and competitiveness of the club. I was able to participate in an introduction to open water swimming session at the SHAC and felt ready (ish) for my first Tri.
Fast forward to July 2021. Events had been back for a while and my deferred entry to East Grinstead was fast approaching. I favoured this for the pool swim, it's local and everyone I spoke to at the club said how friendly it was, especially for your first Tri. In the weeks preceding the triathlon East Grinstead tri club got in touch to say they were doing a recce of the bike and run course plus a chance to ask questions, see transition and settle any nerves. This was such a wonderful opportunity and really gave me a confidence boost.
On the day of the triathlon the sun was out. Club members were taking part in triathlons across the country, including a few of us at East Grinstead. TriSurrey had it's own starting wave which definitely helped. I really enjoyed the short 400m swim and as a club it seemed we all came out of the water at similar times. A short run across to transition and I found my bike easily. A last minute change to the bike route meant two laps but flatter than predicted. I was last to leave transition from the club but felt good heading out on the bike. The sun was blazing and I settled in to a steady pace. The route was well sign posted, marshals friendly and I felt comfortable. I worked hard on the second lap and was certainly feeling the heat by the run. Transition was straight forward and I set out for the first of two laps. Just 5km in total. Just a park run. But I felt spent. I'm not great in the heat but this was also combined with some uncomfortable kit issues. The run was difficult and I took on water at the water station each lap. What was lovely was hearing the cheers from my Tri Surrey friends as I did my first lap.  When I came to the finish it felt amazing. It felt great to actually complete my first tri. There was lots I needed to work on – transition and my run off bike but a wonderful way to start. Hearing the successes of others on that day, including John, who completed an Iron Man distance in that heat, is truly inspiring and motivating. It didn't take long to get my next tri booked (goodwood relay) and the training to continue.
On a final note, I really do feel so lucky to have found Tri Surrey. Every member is supportive, friendly and takes the time to offer advice. I'm nowhere near the quickest (quite often the slowest!) but this has never been a problem and the coaching is excellent. I'm pushing my limits and loving the challenges of all the different sports. Not only that but I've made lovely friends as well. And to think, I started off just wanting to improve my 10km time!
Carly G
I joined TriSurrey several years ago because of my interest in open water swimming.  Having only ever swum in swimming pools I was intrigued by the prospect of swimming in a lake, and a little bit scared too! My first lake swim was cold and dark, but it was also serene and beautiful.  I realised I suffered with fish fear too, but over time this subsided, and I became more relaxed.  I purchased an ex-demo wetsuit and started training in the lake for a 5K Macmillan swim in Brockwell Lido.  The water temperature on the day was only 15 degrees and I got really really cold as it took me just under 2 hours to swim the 100 lengths.  Lots of swimmers gave us because they just got too cold and they had to warm me up gradually when I got out which was a little scary.
Following this event I started TriSurrey pool training sessions to work on my technique, and quickly progressed from unilateral to bilateral breathing. I got my first road bike and completed a couple of sprint triathlons, as well as cycling to Brussels with the TriSurrey gang which was brilliant, just so much fun.
My channel swimming journey really started quite recently – only at the end of last summer (August 2020).  I swam the whole of last summer in the lake in a wetsuit and completed the Henley river swim in a wetsuit – I really do like the warmth and buoyancy it provides and it makes me feel protected from anything which may be lurking in the water!  In August I swam in the sea with Lucinda and Nicky, also TriSurrey members, and it was the first time I'd ever properly swum in the sea with goggles.  It was just after a storm and it was wild but totally exhilarating!  It was on the journey back that the channel swim idea was born.  Lucinda was chatting about her channel swim and I suggested to Nicky that we do a channel relay to raise money for her bionic thought controlled hand.  She has two legs for running and cycling but only one hand which makes swimming a particular challenge – it would get lots of attention and hopefully raise lots of money.
We started training in Dover and the wonderful Dover Darlings took us under their wings and looked after us.  I had to ditch my beloved wetsuit and brave the cold water in skins, but with the support of Nicky and the Dover Darlings I did it and loved it!  The after drop can be unpleasant, with lots of shivering, but the buzz you get once you've warmed up is wonderful and you feel amazing for days. It's about learning the signs telling you that you need to get out, never swimming alone and swimming with experienced swimmers who can guide you and keep an eye on you.
It would have been 2023 before we could get a number one neap tide channel slot, but the Dover Darlings had been given a much earlier slot by a coach (Brian) who had booked it for a solo crossing but because of lockdown hadn't had sufficient training opportunities.  Because of our commitment to training and traveling to Dover every weekend they asked if Nicky and I would like to swim in their relay team in Brian's June 2021 slot! This was very exciting, but then lockdown hit in the winter of 2021 and we couldn't travel to Dover.  We managed to swim in the Thames a couple of times to stay acclimatised and our TriSurrey friend Lisa let us swim in her pool in her garden.  We even cracked the ice a couple of times!
Channel relay training began properly in March 2021 once we could travel to Dover again.  The 5 of us in the team trained every weekend in Dover with Coach Brian – unfortunately it was such a cold Spring!  With sea temperatures not much above 10 degrees and bitterly cold arctic winds it was really really tough and I really struggled.  I gained weight to try and help but I just couldn't hit the one hour mark in the water.  This was a concern because we needed to do a 2 hour channel qualifier swim sometime in May.  I came close to giving up at this point, it just didn't feel like fun anymore.  But then Brian arranged for us to complete our qualifier swim at Diver's Cove where the lake temperature was 14 degrees and this was a turning point for me.  It was tough, lashing down with rain and really cold but me and Nicky did it!  2 hours of swimming in 14 degrees in skins; we had qualified for the channel relay!
Next up was our practice swim off the boat taking us across the channel to France – 'Masterpiece' piloted by Fred and Harry.  It was so choppy and really quite scary in the open sea!  I climbed down the ladder and got in and the boat seemed so high up and I felt so vulnerable.  I could feel myself starting to panic but managed to get a grip of myself and get into the zone.  The second practice swim was less choppy and I enjoyed it, even though I couldn't keep up with the boat because I was swimming against the tide which was a little disconcerting.  That night we did a night swim in Dover Harbour with the Dover Channel Training swimmers and I loved it which surprised me!  Everyone had twinkly green lights and the stars were so bright, it was really beautiful but very cold.
Finally the time had come for us to swim to France! We set off at 01.10am in the dark, I was so nervous.  I'd spent the whole weekend re-reading Ross Edgley's 'The Art of Resilience,' which helped me to get my mind into the right place for the swim.  I was swimmer number 3, so my first swim was in darkness although the sun was starting to rise by the time my hour was up.  I got really cold during this swim, it was dark and my body was telling me it was bedtime; I felt so tired despite the adrenaline rush.  I was very shivery when I got out and Brian made me lie in a foil sleeping bag once I'd warmed up a bit and was generating some body heat.  I slept deeply for half an hour or so and felt so much better for it. Nicky was swimmer number 5 and seeing her swimming one armed in the open sea was just incredible, she looked so strong and I felt so proud of my swimming buddy.
My second swim at 08.10am was actually enjoyable once I realised I couldn't see jellyfish or anything really except huge vast volumes of water.  I had felt anxious about swimming in deep ocean water without a tow float but I sorted my head out and got into a rhythm and it was great!  This swim wasn't as cold either as the early morning sun was on my back.  I could feel things brushing past me in the water and I had a stinging sensation on my left ankle but it was OK as I'd told myself that jellyfish are beautiful and their sting is no worse than a wasp sting.
Eating was difficult on the boat as even though it was a calm hot sunny day the constant rocking motion gave me a continuous feeling of low grade nausea.  The 4 hour gap between swims went so fast!  The first hour you'd be warming up, then trying to have a nap, then eating some food, then it was time to start psyching yourself up to get back in!
My third and final swim I absolutely loved.  We could see France clearly and Coach Brian had told me to swim for the beach.  Everyone on the boat was cheering and dancing and giving me encouragement (I'd told them I needed entertainment on this one!) and it was the swim of my life, I just went for it.  I knew I wouldn't land and it was tough because the tide was trying to push us up parallel with land, and I kept getting hit by blasts of icy cold currents which took my breath away, but I loved it.  I've never swum 3 hours in one day before so I was exhausted but elated.
Nicky landed just under 2 hours later and I have to say it was one of the most exhilarating, emotional, exciting moments of my life.  We were screaming at her from the boat as we so wanted her to be the one to land.  14 hours 53 minutes and 22 seconds – we'd done it! Everyone was crying, it was just the most incredible feeling ever.  Nicky raised enough money for her hand and we even got interviewed by Jamie and Amanda on Heart FM a few days later!
For me it was as much about mental strength as physical, and the body's ability to acclimatise astounds me.  It certainly didn't come easy to me!  Now I have 4 weeks to lose the weight I gained to fit into a bridesmaids dress arghhh!  But it was absolutely 100% worth it. Will I ever get back into my wetsuit? I doubt it very much, I worked too hard to get out of it!
Tracey S